29/12/16 18:50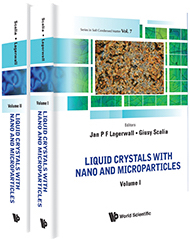 Finally, it's out! After a long process, sometimes with unexpected turns, the book edited by Giusy Scalia and Jan Lagerwall on nano and micro inclusions in liquid crystals, is now published, printed and available for purchase. "
Liquid Crystals with Nano and Microparticles
" is published by World Scientific (Singapore) and you can
read all about it (and order it, on paper or as an e-book) here
. Featuring the world leaders of this broad field and covering a diverse range of aspects, it ended up filling two volumes. The content is as follows (chapter authors in parentheses):
Volume 1:

1. Introduction (G Scalia and J P F Lagerwall)
I. Fundamentals:
2. A Phenomenological Introduction to Liquid Crystals and Colloids
(J P F Lagerwall)

3.
Nanoparticle Dispersions: A Colloid and Polymer Solution Perspective
(P van der Schoot)

4.
Nematic Liquid Crystals Doped with Nanoparticles: Phase Behavior and Dielectric Properties
(M A Osipov and M V Gorkunov)
II: Methods for Studying Liquid Crystals and Their Inclusions:

5.
Conventional and Nonlinear Optical Microscopy of Liquid Crystal Colloids
(T Lee and I I Smalyukh)

6.
X-Ray Scattering
(G Ungar, Z Chen and X Zeng)

7.
Raman Spectroscopy
(H F Gleeson)

8.
Manipulation of Inclusions with Optical Tweezers
(M Skarabot)

9.
Atomic Force Microscopy on Liquid Crystals
(C Bahr and B Schulz)
III. Micron Scale Inclusions in Liquid Crystals:

10.
Solid Microparticles in Nematic Liquid Crystals
(Igor Muševič)

11.
Inclusions in Freely Suspended Smectic Films
(R Stannarius and K Harth)

12.
Liquid Crystal-Enabled Electrophoresis and Electro-Osmosis
(O D Lavrentovich)

Volume 2:
IV. Nanoparticles in Liquid Crystals:

13.
Nanoparticles in Discotic Liquid Crystals
(S Kumar)

14.
Metallic and Semiconducting Nanoparticles in LCs
(A Sharma, M Urbanski, T Moria, H-S Kitzerow and T Hegmann)

15.
Inorganic Nanotubes and Nanorods in Liquid Crystals
(I Drevenšek-Olenik)

16.
Liquid Crystals from Mesogens Containing Gold Nanoparticles
(W Lewandowski and E Gorecka)

17.
Carbon Nanotubes in Thermotropic Low Molar Mass Liquid Crystals
(S Schymura, J Park, I Dierking and G Scalia)

18.
Carbon Nanotubes Dispersed in Liquid Crystal Elastomers
(Y Yang and Y Ji)

19.
Ferromagnetic and Ferroelectric Nanoparticles in Liquid Crystals
(Y Reznikov, A Glushchenko and Y Garbovskiy)

20.
Nanoparticle Guests in Lyotropic Liquid Crystals
(S Dölle, J H Park, S Schymura, Hyeran Jo, G Scalia and J P F Lagerwall)

21.
Control of Nanoparticle Self-Assemblies Using Distorted Liquid Crystals
(E Lacaze and D Coursault)

22.
Nanoparticles and Networks Created Within Liquid Crystals
(S-W Kang and S Kundu)


Liquid Crystals Formed by Nanoparticle Suspensions:

23.
Nematic Phase Formation in Suspensions of Carbon Nanotubes
(C Zakri and Ph Poulin)

24.
Nematic Phase Formation in Suspensions of Graphene Oxide
(N Fresneau and S Campidelli)

25.
Electro-Optical Switching of Liquid Crystals of Graphene Oxide
(J Song)

26.
Liquid Crystalline Phases in Suspensions of Pigments in Non-Polar Solvent
(S Klein, R Richardson and A Eremin)

27.
Cholesteric Liquid Crystal Formation in Suspensions of Cellulose Nanocrystals
(C Honorato-Rios, J Bruckner, C Schütz, S Wagner, Z Tosheva, L Bergström and J P F Lagerwall)