15/02/17 15:32
Just sending out a virtual "hi!" as the ESMP group's new webmaster for lcsoftmatter.com.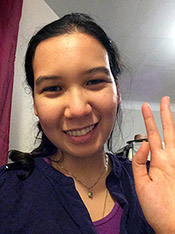 ( <— That's me, Catherine!) Since I enjoy layout designing, I thought I'd give re-vamping our group website a shot. I think it can be very cool for showcasing our groups' unique research, our scientific interests, and our successes together (invited talks, new papers published..etc), more so than it already does. On the technical side, I expect to integrate some more dynamic, and responsive layout functions (to make viewing the site on tablet & mobile on the go a little easier, for example). And, I'll also try to get some more contributions from folks in the group, just so we can hear from them once in a while too.


And don't worry, Jan isn't totally going to disappear from this site! (he is our PI after all) He's just getting his own personal site with all of his lectures up and running now too. Once it's ready I'll announce it on here. If you need to contact him though, you can still send him a message through the Contact page, or through his regular University of Luxembourg email address.

Finally, I just wanted to say that I think 2017 is going to be another great year for our group, full of new ideas & exciting research. It's my hope that the site can actually keep up with all the progress we make too.

Toodles*,
Catherine

*Toodles - A shortened anglicized version of the French phrase:
à tout à l'heure, which generally means "see you later"